"Quality leaders recognize that life is pretty much about managing expectations— their own expectations and those of others. People can handle significant challenges—as long as they align with their expectations. Any time hardship fails to align with expectations, however, we can expect trouble."
Dr. Tim Elmore
I have been the Chief Empowerment Officer for LEAD for 11 years and we partner with Atlanta Public Schools to empower an at-risk generation to lead and transform their city of Atlanta. LEAD Scouts The Counted Out. We use baseball as a vehicle to help youth black males overcome crime, poverty and racism. The over 350 student-athletes grades 6th through 12th that we serve earn the opportunity to become empowered by LEAD with the ABC'S …


• Attendance
• Behavior
• Curriculum (grades)
• Service

LEAD stands for Launch, Expose, Advise, Direct. It is the gift God gave to me in order to live out my purpose on earth. We develop and position black boys to live sustainable lives of significance by freeing them from the stereotypes that keep them bound.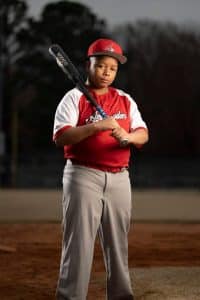 John Phillips
John Phillips is age 15 and a rising sophomore at Frederick Douglass High School. He's been a LEAD Ambassdor for one year.

I recently asked him what he dreams about, worries about as well as the questions that people ask him that lets him know that they care about him. Here are his responses . . .

My dreams.
I dream about retiring from the MLB and starting a program like LEAD to help black kids be successful.
I dream about making the people proud that helped me be successful.
I dream about fixing poverty.

My worries.
I worry about my grandad and dad not living long enough to see me be successful.
I worry about letting everyone down that believes in me.
I worry about not being successful as a result of leaving LEAD, dropping out of school and following the streets. I have no plans to do either one because LEAD has taught me how to be disciplined with my thoughts and actions.

Caring questions.
Has everything been alright?
How have you been?
Did you make it home or your destination safely?
There are a lot of aspects of LEAD that I am proud of, and this one ranks high on my list – we are a meritocracy. A meritocracy is an elite group of people whose progression is based on ability and talent rather than class privilege or wealth. Because of this, we have what some believe to be a high attrition rate, around 15%-20%. Some of the attrition is due to lack of funding for staff, but most of it is because of the high standards we set. We are uncompromising in our expectations for our Ambassadors, and when they fail to meet these standards, they are met with the consequences. One such consequence is termination from the program, and when that happens we encounter quite a bit of criticism.
My stance is this: we cannot empower our youth to overcome their struggles by enabling them to use those same struggles as a crutch. Through stories they've shared with me, the Ambassadors have taught me how much they respect our organization by reaching for, and at times exceeding, our standards; even more so when they accept the negative consequences for not meeting the standards. Too many times they've told me that being in LEAD is the first time they've been held accountable on a consistent basis. For some reason, when it comes to helping Black males, most folks throw accountability right out of the window. This is exactly what they need; trust me, I know. Not too long ago, I was a teenage Black male walking the same streets as my Ambassadors walk today. I've overcome similar situations to theirs. The last thing they need is someone offering them benefits or opportunity without accountability.
Our Pathway2Empowerment model for our Ambassadors includes a K-12 education from Atlanta Public Schools, Core Value training via Habitudes®, and access to higher education via the military and/or the two to four-year college/university system. Ambassadors who work within our model and hold themselves accountable to it, go on to be employed at industry leading companies like Home Depot and Aerotek, and are well on their way to living a sustainable life of significance.
A great way for you to lead with us is by coming to a game this summer to support John. Here's a short video of the Ambassadors in action on the baseball diamond.