"Life's most persistent and urgent question is, 'What are you doing for others?'" — Martin Luther King, Jr.
Today is my 44th birthday. It is my prayer that I live the remaining days of my life healthy spiritually, mentally, emotionally, physically and relationally.
In my last blog, I wanted to share five things that I focus on to be healthy. Here are the remaining five that make me feel alive.
No. 6 — Being
I am a fan of being places that challenge my perspectives. I have three barbershops that I frequent monthly. One is in Southwest Atlanta. One is in East Atlanta and the other is in Buckhead. My Buckhead barbershop is owned by Tommy Thomas, a good man who happens to be white and a Republican. I am also a good man. I am African-American and vote Democrat. I love hanging out in his barbershop hearing the perspectives of him and his patrons.
You can also find me mentoring youth in Bartow County, Buckhead and Bankhead monthly. I love people and I love learning about different cultures. I have been mentoring students monthly in Bartow County at Allatoona Elementary School for four consecutive years. Allatoona Elementary School is a Title I School that serves a majority of white and Hispanic students. I connect with them in that I was also born into poverty and had dreams that could become a reality with the right connections. For many of the students, I will be their bridge to their careers. That makes me feel good knowing that I can earn the trust of students, who according to negative rhetoric, are not supposed to trust me since I am an African-American man.
No. 7 — Fitness Training/Diet
I faithfully workout four to five days per week for an hour using a combination of elliptical and weights. I eat three clean meals per day for five to six days per week, and then I eat like a savage for the other two days. I changed my fitness and diet a couple years ago when my doctor told me that I was gaining too much weight and was close to being diabetic. As I considered the amount of money that I would have to invest in medicine, I was convicted and disciplined myself to take care of myself. My fitness training and diet gives me the energy I need to be a loving husband, father, son, brother, uncle, coach, Deacon, and so on. I want to be the best me I can be so that I can love others well.
No. 8 — Coaching
Before the word coach was used in sports, it was strictly used as a means of transportation. There was horse controlled by a coachman, and the coach was the compartment that passengers rested until they reached their destination. Coaching allows me to use my spiritual gift of discernment to serve others. Coaching is my earthly talent. It is what I do well. According to Malcolm Gladwell, it takes 10,000 hours of deliberate practice to develop a skill. I define a skill is something that you do well repeatedly without thought while under stress. I have coached for more than 40,000 hours over the last 22 years.
I love being called a coach. I believe it is an endearing and meaningful calling, just like being a pastor, doctor, military officer or an educator. Good coaching happens at 30,000 feet. That is where airplanes cruise to their destination far away. At 30,000 feet, big things look really small.
I remember one time one of our L.E.A.D. Ambassadors, D'Zayvias Sumter, told me I was like an airplane. When I am not in proximity to him and the other Ambassadors, I appear small (not insignificant) enough to fit in the palm of your hand. But when I land, I take up a lot of space.
When D'Zayvias joined L.E.A.D., he did not like the accountability part of me. Now, he is an officer in the Marines and he loves it. I see myself as an air traffic controller. I give people the runway that they need to take off. I launch people. I use my spiritual gift of discernment and past mistakes that I have made to warn them and reroute them when danger is eminent. I help them land safely. If they do not land safely, I am there to serve them as well. And it is a beautiful thing when I can trust others to give me the runway that I need to get my plane in the air. Coaches need coaches, too.
No. 9 — Give
"You can't give what you don't have" is one of my favorite quotes. I am not sure who is the original author. It resonates with me because I believe in receiving so that I can give. I appreciate receiving in awards. On Nov. 20, 2011, I received a Proclamation from Atlanta City Councilman Michael Julian Bond. It was "C.J. Stewart Day" through perpetuity in Atlanta. I was recognized as "Mr. Baseball" by the Atlanta Braves 400 Club in 2018. In that same year, I was recognized nationally as a "Mentoring King."
This year, I received the "Brian Snitker Award APIVEO Youth Coach of the Year." I also received the "Taz Anderson Service Award" from the Georgia Sports Hall of Fame. My personal mission in life is to be significant by serving millions and bringing them into a relationship with Christ, starting with my wife, Kelli, and our daughters Mackenzi and Mackenna. I also believe that my birth city, Atlanta will only become a world-class city when hundreds of thousands of Black males are living a sustainable life of significance.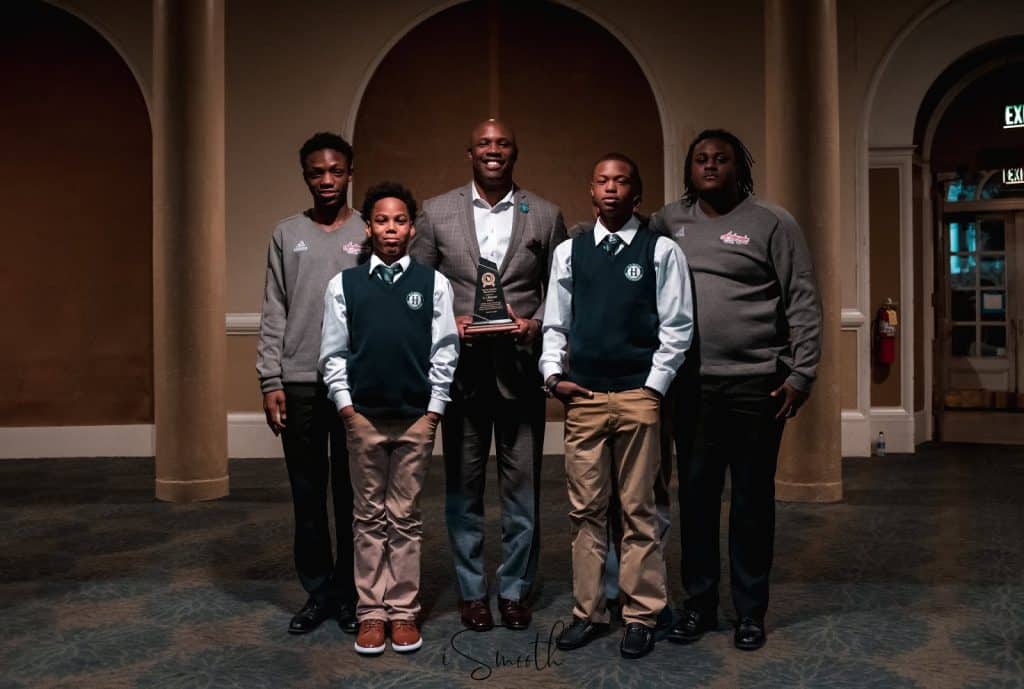 No. 10 — Leisure
Netflix, CNN and Facebook. I love watching Netflix. My all-time favorite Netflix show is "Narcos," followed by "Trigger Warning" and "Malcolm X." I got hooked on "Cheer," "Friday Night Tikes," "Tiny Houses," "Last Chance U" and "Drugs, Inc."
I spend a lot of time on Facebook learning from others and just socializing. When I post, it is with purpose.
Sunday's – My Faith, Marriage & Stuff
Monday's – Racism & Culture
Tuesday's – Education
Wednesday's – Social Impact of Sports
Thursday's – Taboo Stuff
Friday's – National Politics & Economic Development in Atlanta
Saturday's – Silence or Sarcasm
I kickback and watch a lot of CNN. It is a trusted news source for me and I learn a lot about debating with civility when I tune in. I do not always agree with what is said, but it is always done civilly.